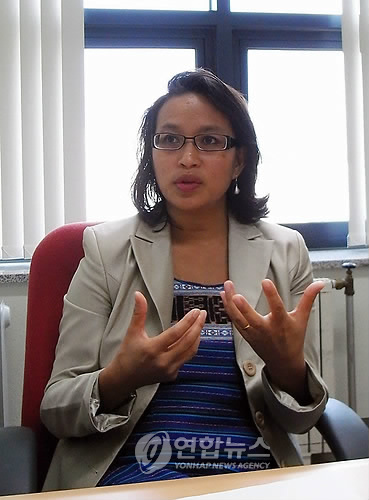 East Timor's First Lady appreciates vacation time in Philippines' Pangasinan
By Barbara Mae Dacanay, Bureau Chief
Published: 14:25 December 26, 2010
Manila: A vacation in northern Luzon's Pangasinan has been a rare and great time to bond with son and parents, and to help solve problems in the northern region, Jacqueline Siapno de Araujo, wife of Fernando "La Sama" de Araujo, East Timor's second highest official, told a local paper.
Their son Hadomi, 7, has been treasuring his vacation at Bonuan Gueset, a coastal village along Lingayen Gulf, Mrs. De Araujo told the Inquirer.
"(In the Philippines) he (Hadomi) has his close relatives. He has a lot of love from his cousins," she said. In contrast, in East Timor, her son "suffers" because she and her husband, being East Timor's national parliament president, are always busy with political and social obligations.
"Hadomi is the love of my life. I want him to grow up also as a Filipino. I want him to be proud that he is from Pangasinan," de Araujo said, adding she is happy that her father has taught her son to sing a Pangasinan love song entitled, "Malinac Lay Labi (Tender is the Night)."
In East Timor, she taught her son to sing a Pangasinan song about Pangasinan culture, said de Araujo, adding her son is happy to imbibe Pangasinan culture.
Since East Timor President Jose Ramos Horta is single and her husband is the second highest official, she is considered as an interim first lady.
She said she has been homesick for her parents. "They are growing old. I feel bad that I can't serve them and spend more time with them"
Her father Juan is a lawyer and a violinist. Her mother Corrona Aquino was a loving and patient tour guide when she came to Pangasinan in April 2009.
"I am here to rest," she declared, but added, "It's impossible to be a tourist (here) because they tell me all their problems and their difficulties"
After a brief visit at the Juan Siapno Elementary School, which was named after her grandfather, she started drafting an educational program for the school and social welfare assistance for the school teachers.
"They (the teachers) have little support. They pay for their own water consumption. I'm waiting for my brother and we will see what we can do about it," de Araujo said.
Since she arrived in Pangasinan on December 8, she declined the offer of East Timor consulate to pick her up at Pasay City's Ninoy Aquino International Airport.
She took a bus from Manila to northern Luzon, and has been riding the tricycle (small three-wheeled vehicle) in her hometown.
"I cook on the firewood stove. That takes about three hours. I wash clothes in the artesian well. That takes about an hour," she said, enjoying a new lifestyle.
Her husband arrived in her hometown in Pangasinan on Sunday to observe the celebration of a town fiesta, and the coronation of Miss Dagupan, also in Pangasinan.
Three months a year, she teachers at the Graduate School of International Studies at Seoul National University in Seoul in South Korea.
As a performing artist, she holds recitals and concerts for fund raising projects in Dili.